Multipole Conductor Rails
Special features:
protection against direct contact
little installation space required
vertical and horizontal installation options
fast installation with plug-in connectors, clip-on hanger clamps and simultaneous mounting of several conductor lines
MultiLine 0831
Additional information
Multipole compact conductor rail for straight tracks in indoor applications.
Special features
Fast and economical mounting through multipole design, clamp hangers and plug-in connector technology
Free combination of 3-, 4- and 5-pole units
High safety level and optimized mechanical characteristics through joint insulation profile
Compact design with optimum distance between the poles
Easy maintenance – rail segments can be easily cleaned and replaced
Main applications
High Storage Systems (AS/RS)
Process and production cranes
Customized solutions and special purpose equipment
Product data
Standard application data
Nominal Current (at 100% duty cycle) [A]: 10 | 32 | 60 | 100 | 125
Voltage Grade [V]: 690 (Hand safe array 500 V)
Rail Length [mm]: 4.000 [16.40 ft]
External Dimensions [mm]: 3-pole: 26,0 x 62 [1.02" x 2.44"]; 4-pole: 26,0 x 80,0 [1.02" x 3.15"]; 5-pole: 26,0 x 98,0 [1.02" x 3.86"]
Operating Conditions: for indoor and weather-protected outdoor applications
Track Configuration: straight tracks
Downloads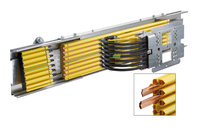 EcoClickLine 0832
Additional information
Multi-pole compact conductor rail for use in automatic high rack storage.
The EcoClickLine compact conductor rail system is a 7-pole quick assembly system with an optimised load-bearing system for large support spacings and integrated protection for the conductor rail. The modular system has been designed to supply energy to and transfer data in high rack warehouses and can be extended to include a positioning system.
Special features
Conductor rail system for automatic storage systems [AS/RS]
System can be freely configured in terms of length and placement
One Product equally applicable in regular and deep-freeze warehouses
Quick assembly system incl. supporting structure
Delivered in modular components for simple logistics and easier assembly
Barcode positioning system [optional]
Main applications
Automatic high rack warehouse
Product data
Standard application data
Nominal Current [A]: 35 | 63 | 100 | 140 | 200
Nominal Voltage [V]: 690
Number of Poles: 7-pole, can be freely equipped with conductors
Conductors cross-section [mm2]: 10; 16; 25; 35 and 50 [profiled conductor-insertion system]
Rail Length [mm]: 4.000 [13.12 ft]
Support Spacing [m]: 3,2 [10.5 ft]
Operating Conditions: Indoor
Track Configuration: straight tracks
Downloads